Entrenamiento de liderazgo para la Justicia Ambiental
Patricia Martin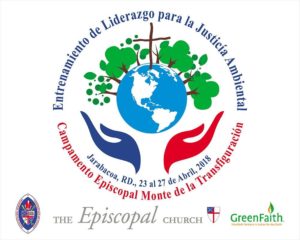 Del 23 al 27 de abril se llevará a cabo un entrenamiento de liderazgo para la Justicia Ambiental, patrocinado por la Iglesia Episcopal Dominicana y organizado por GreenFaith, una organización ambiental multi-religiosa cuya misión es inspirar, educar y mobilizar a las comunidades de fe para la acción ambiental.
Con apoyo de la Iglesia Episcopal de Estados Unidos, el entrenamiento reunirá a más de 40 líderes de la Iglesia Episcopal y su red ecuménica dominicana, ONGs y personas del gobierno. Además contará con la presencia de líderes religiosos asociados con GreenFaith. Entre estos, Alirio Cáceres de la Mesa Ecoteológica e Iglesias y Minería de Colombia, Carlos León, del Centro Ecológico Diaconal en Cuba, el Pastor Herold Ambrocio miembro de la Iglesia Metodista del Perú y Devora Almengo, representando la Fundación Ecológica Tropical de RD.
Como representantes de GreenFaith nos acompañarán, Estrella Sainburg, Organizadora de Círculos Verdes, y la Ecoteóloga Neddy Astudillo, Directora de entrenamiento y LatinoAmérica. Entre los temas que se verán en este entrenamiento están: Identidad ecoteológica, justicia ambiental y sus retos en República Dominicana, ecoteología. Se escucharán además sobre las voces de la juventud y su trabajo de acción por el clima; energía verde, esfuerzos a nivel personal e institucional, seguridad alimentaria, organización comunitaria y liderazgo ambiental en República Dominicana. Los/las participantes de la Iglesia Episcopal se estarán organizando a nivel regional, para llevar a cabo una serie de esfuerzos de justicia ambiental como un segundo paso luego del entrenamiento, con el apoyo del Obispo Diocesano Moisés Quezada Mota y su Comité de Eco-Justicia y Mayordomía de la Creación.
(INGLES)
From April 23 to 27 a leadership training for Environmental Justice will be held, sponsored by the Dominican Episcopal Church and organized by GreenFaith, a multi-religious environmental organization whose mission is to inspire, educate and mobilize communities of faith for environmental action.
With support from the Episcopal Church of the United States, the training will bring together more than 40 leaders of the Episcopal Church and its Dominican ecumenical network, NGOs and government representatives. It will also have the presence of religious leaders who are associated with GreenFaith. Among these, Alirio Cáceres of the Ecotheological Table and Churches and Mining of Colombia, Carlos León, of the Diaconal Ecological Center in Cuba, Pastor Herold Ambrocio member of the Methodist Church of Peru, and Devora Almengo, representing the Tropical Ecological Foundation of the DR.
As representatives of GreenFaith will accompany us, Estrella Sainburg, Organizer of Green Circles, and Ecotheologian Neddy Astudillo, Director for training and LatinoAmerica.
Among the topics that will be studied in this training are: Ecotheological identity, environmental justice and its challenges in the Dominican Republic, ecotheology, the voices of youth and their climate action work will be heard; green energy, personal and institutional efforts, food security, community organizing and environmental leadership in the Dominican Republic. The participants of the Episcopal Church will be organizing at the regional level, to carry out a series of environmental justice efforts as a second step after the training, with the support of Diocesan Bishop Moises Quezada Mota and his Eco-Justice and Stewardship of Creation Committee.